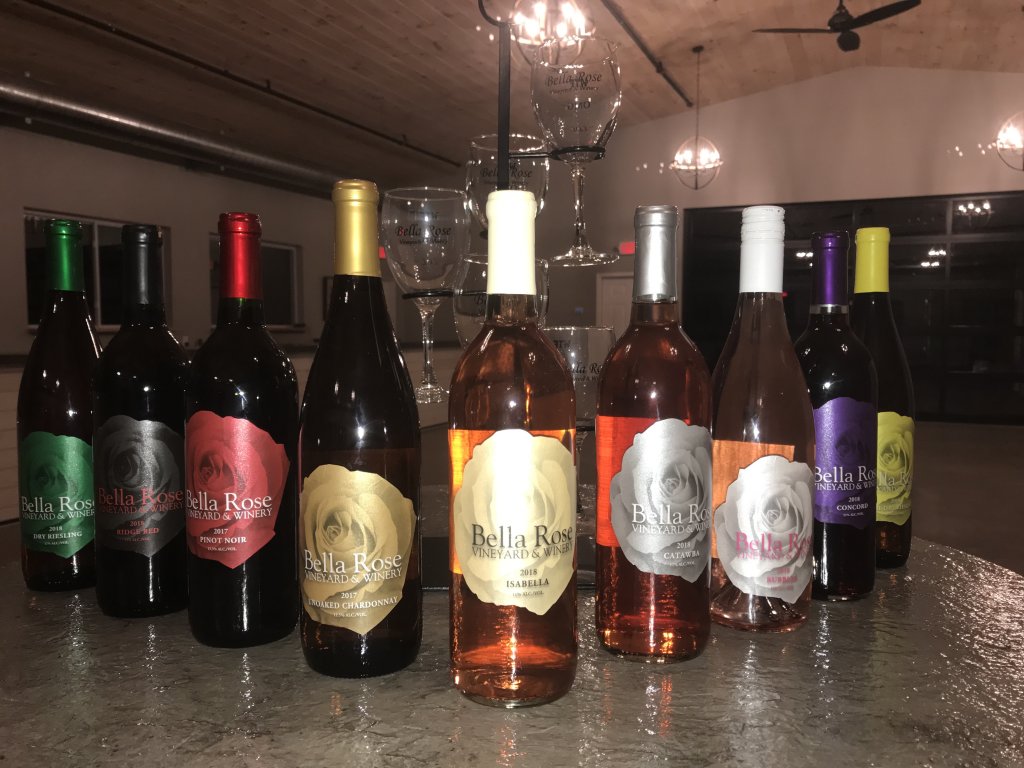 Flight of Wine 5 Tasting $8.50
Glass of Wine $6.00
Wine Slushie $10.00
All PRICES ARE BEFORE TAX
Bella Rose Wine
Dry-Sweet​​​​​​​

Cabernet Sauvignon: $28.95 Bodied, dry with high tannins. Gently oak-aged with flavors of dark cherries, blackberries, chocolate, and spice. 2019

Pinot Noir: $24.95 Rich aromas of cherry, cranberry, lavender, earth and spice compliment a full mouthfeel leading to a long complex finish. 2017
Ridge Red: $16.95 An aromatic nose with abundant berry-cherry flavors. Traditional flavors of Blackberry, blueberry, cedar and plum notes with hints of chocolate. Full-bodied... (34% Chancellor, 34%Chambourcin & 33% Marechal Foch)
UnOaked Chardonnay: $16.95 Stainless Steel Aged. Flavors of crisp green apple, fruit forward, and a bright finish. 2017
Dry Riesling: $16.95 Crisp and aromatic. Notes of orange blossom and lavender. Nice mineral finish. 2018
Semi-Dry Riesling: $15.95 Aromas of lemon-lime, apple and wet stone with flavors of peach. 2018
Isabella: $14.95 Boysenberry-like aromas and flavors are unlike that of any other grape variety. This light and fruity semi-sweet wine is a more refreshing alternative to Zinfandel.
Bubbles: $16.95 A semi-dry sparkling wine with overtones of apricot, peach and taste of luscious grapes. (50%Niagara, 45%Seyval & 5% Fredonia)
Concord: $12.95 Sweet and fruity, deep and rich with pronounced grape flavors and a silky mouth feel. An intensely flavored regional wine. 8% Residual Sugar.
Catawba: $12.95 Intense notes of grape and pineapple. Sweet yet balanced. Residual Sugar 9%.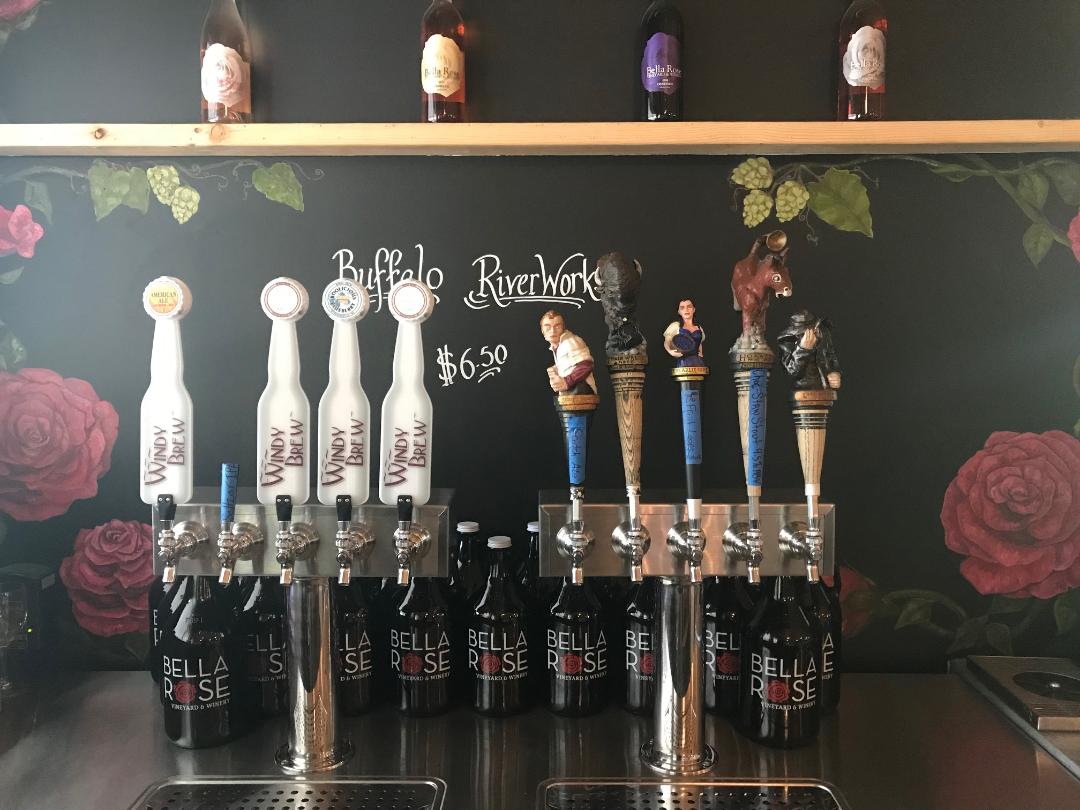 Pint: $6.50
32OZ Fill: $12.99
64OZ Growler: $6.00 (empty) 64OZ Fill: $21.99
All PRICES ARE BEFORE TAX
Buffalo RiverWorks Beer
Trainwreck Amber Ale: (DRAFT) An amber ale made using German-style malts & hops. Its complex malt aroma and favors evoke sweet bread, chocolate and dry-roasted nuts all balanced by a slight spiciness from the hops. 4.5% ABV 14 IBU
Lake Effect American Pale Ale: (DRAFT)An East Coast style pale ale, Lake Effect has considerable heft from the malts to balance out the heavy dose of hops. The subtle earthy flavors of the English hops play off some of the traditional aroma characteristics of American hops while the rich malt provides a backbone to support it. 6.0% ABV 33 IBU

​​​​​​​

Chocolate Peanut Butter Stout: (DRAFT) Street Brawler's smooth, dark, richness is accented by the sweet fullness of chocolate and peanut better. 4.5% ABV 12 IBU

Windy Brewing Beer

Cookies & Cream Stout: Bessy's Best Milk Stout with a cookies and cream flare. Sweet, creamy stout with lactose added.
5.6 ABV
Fluffer Nutter Stout: (Draft) What else is there to say? Fluffer Nutter Dark Rich Beer! 5.0% ABV
Bucsh Cream Ale: (Draft) It's called a cream ale because of its nitrogenated gas blend, which gives it a creamy texture. 6% ABV
Lunation Belgian White: (Draft) Belgian Trippel. Strong golden ale based on recipes from monks of the 1930's.
5.5% ABV
Berry's Hefe: (Draft) Unfiltered wheat beer, Barry said make me a Hefeweizen, Bill said yes. THE END. 5.5% ABV
Windpower Sour: (Draft) With notes of peach, mango, & blueberry it's a true Sour beer. 4.5% ABV
Ellicottville​​​​​​​

Hideous Plaid Cider: (Draft) Sweet Red Hard Cider 8.4% ABV