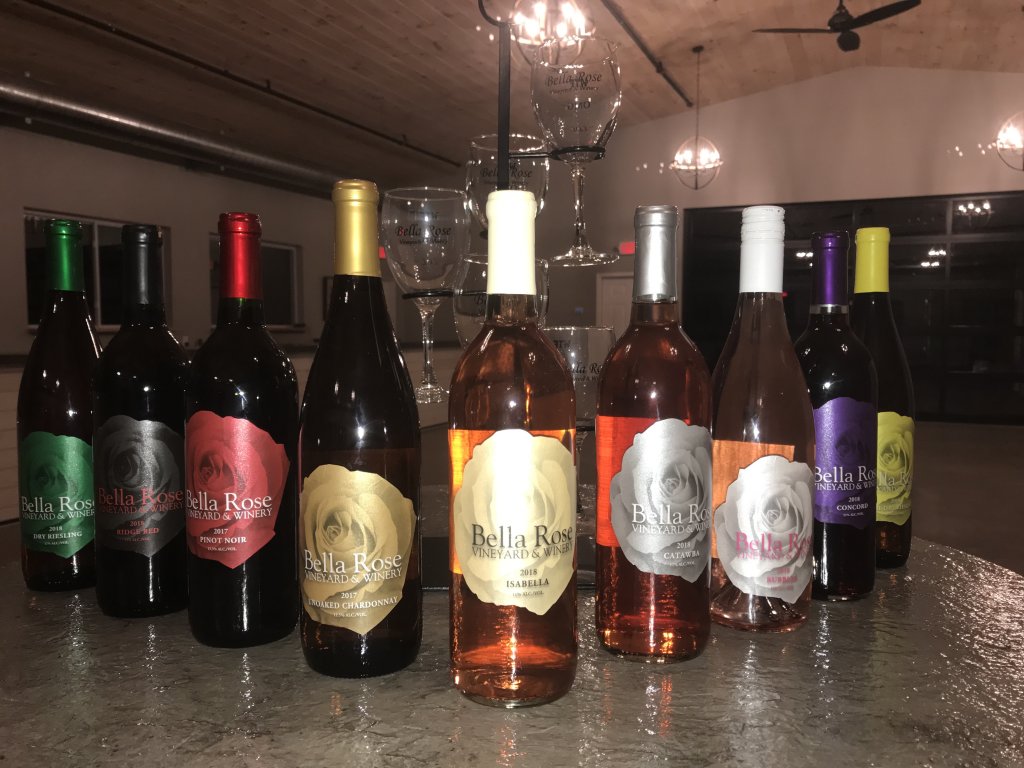 Flight of Wine 5 Tasting $9.00
Glass of Wine $6.00
Wine Slushie $12.00 (Seasonal-Summer)
Mulled Wine $6.00 (Seasonal- Winter)

All PRICES ARE BEFORE TAX
Bella Rose Wine
Dry-Sweet
Bella Rose Red: $17.95 Bodied, dry with high tannis. Hungarian oak-aged with flavors of dark cherries, blackberries, earth and spice. (Cabernet Sauvignon 70% & Marechal Foch 30%)
Cabernet Franc: $28.95 Classic medium-bodied red with moderate tannnins. The flavor is balance between red fruits, herbs, and peppery earthiness. The very young vintage aged in French oak has medium- to high acidity. ​​​​​​​

Ridge Red: $17.95 An aromatic nose with abundant berry-cherry flavors. Traditional flavors of Blackberry, blueberry, cedar and plum notes with hints of chocolate. Full-bodied... (34% Chancellor, 34%Chambourcin & 33% Marechal Foch)
Rosé: $18.95 Limited Edition- Dry with notes of bright strawberries mixed with citrus and balanced by a refined minerality (Pinot Noir)

Chardonnay Bourbon Barrel Aged : $18.95 Limited Edition- Rich, vanilla bean, buttered toast, and carmel flavor coming through on the oak finish. Concentrated with a balanced acidity. Aged 5 months in Knob Creek 9-Year Bourbon Barrels. 2020

UnOaked Chardonnay: $17.95 Stainless Steel Aged. Flavors of crisp green apple, fruit forward, and a bright finish.
Dry Riesling: $16.95 Crisp and aromatic. Notes of orange blossom and lavender. Nice mineral finish. 2018
Semi-Dry Riesling: $15.95 Aromas of lemon-lime, apple and wet stone with flavors of peach. 2018
Bubbles: $16.95 A semi-dry sparkling wine with overtones of apricot, peach and taste of luscious grapes. (50%Niagara, 45%Seyval & 5% Fredonia)
Peach Bubbles: $16.95 A sweet sparkling wine with tons of peach flavor, and later notes of honey. (6% RS) (50%Niagara, 50%Taminette)
Niagara: $13.95 Sweet white wine with a fresh and fruity grape flavor. (7.5% RS)
Concord: $13.95 Sweet and fruity, deep and rich with pronounced grape flavors and a silky mouth feel. An intensely flavored regional wine. 8% Residual Sugar.
Catawba: $13.95 Intense notes of grape and pineapple. Sweet yet balanced. Residual Sugar 9%.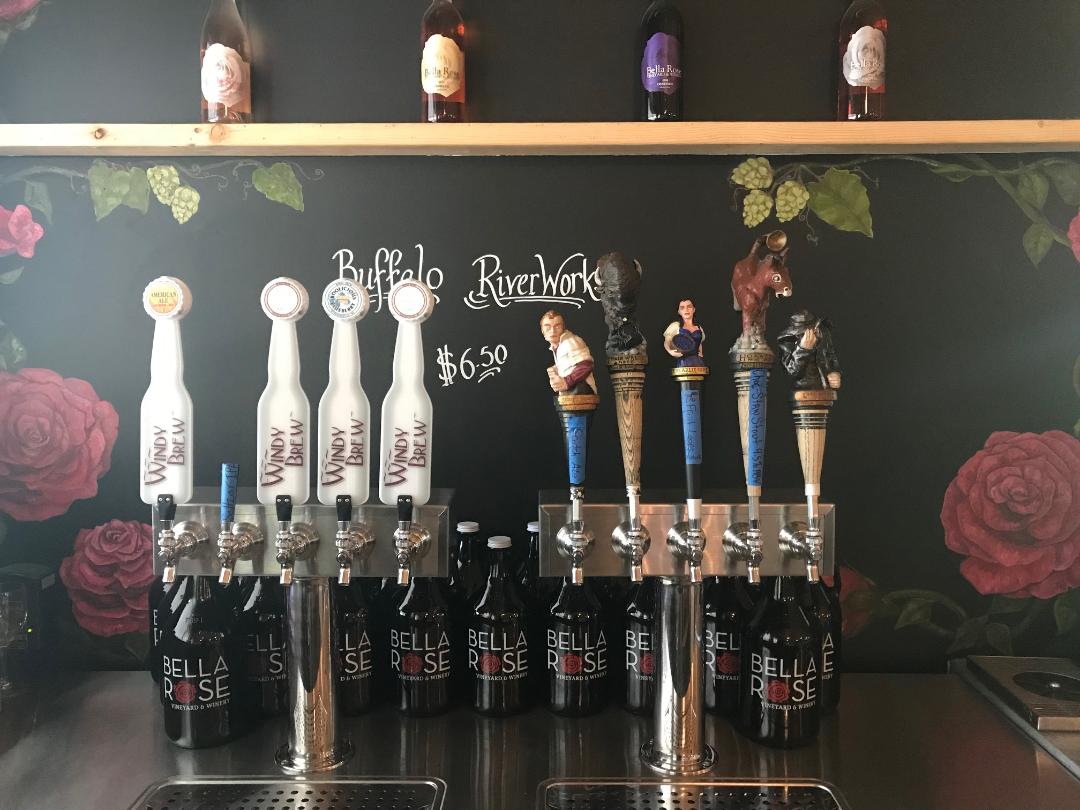 Pint: $6.50
32OZ Fill: $12.99
Beer Flights: $10.00 ​​​​​​​
64OZ Growler: $6.00 (empty) 64OZ Fill: $21.99
All PRICES ARE BEFORE TAX
Windy Brew Beer
We have 10 beers on tap that changes regularly.

Down below are beers that we frequently have on tap!!
Fluffer Nutter Stout: (Draft) What else is there to say? Fluffer Nutter Dark Rich Beer! 5.0% ABV
Lunation Belgian White: (Draft) Light, clean, crisp. Take it home and serve with an orange, If you like to get some vitamin C while also enjoying a beer! 5.5% ABV
Boolicious Blueberry: (Draft) Wheat Ale-Looks like blueberries, taste like blueberries, so they added beer to it so they could enjoy blueberry beer. 5.8% ABV

Bessy's Cookies & Cream Stout: (Draft) Adjunct Stout. This cookies and cream stout is the best type of desert. 6.2% ABV
Sheldon Bush Cream Ale: (Draft) It's called a cream ale because of its nitrogenated gas blend, which gives it a creamy texture. 6.0% ABV​​​​​​​

American Ale: (Draft) Amber Ale with notes of caramel and a smooth finish. It will have you chanting "USA" by the time you finish!! 5.0% ABV
Berry's Hefe: (Draft) Unfiltered wheat beer, Barry said make me a Hefeweizen, Bill said yes. THE END. 5.5% ABV